ADA Requirements for Bleacher Seating
The Americans with Disabilities Act (ADA) has developed standards for acceptable bleacher design to allow everyone, disabled or not to be able to enjoy the pleasure of cheering on their home team. We at GT Grandstands pride ourselves in building accessible aluminum bleachers and grandstands. We ensure your space is compliant with ADA Seating Requirements.
ADA Seating Requirements for Bleacher Seating
"ADA" (also known as the Americans with Disabilities Act) seating is a designated area or seating where individuals with disabilities can sit to help accommodate their needs much better than traditional seating. ADA requires new stadiums to be accessible to people with disabilities so they, their families, and friends can enjoy equal access to entertainment, recreation, and leisure.
ADA Seating Guidelines
Below you'll find the government regulations and requirements to build ADA accessible bleachers.

Building ADA compliant bleachers and grandstands is easy!
Your bleachers should be built with the proper amount of wheelchair spaces and companion seats. The proper amount is designated spaces and companion seating based on the total number of seats in the facility.
Wheelchair spaces and companion seats should be dispersed horizontally and vertically throughout the bleachers. This allows for accessible seating to be available at all price levels and viewing angles.
Your wheelchair spaces and companion seats need to have an accessible route to them along with easy access to entrance/exits, restrooms, and amenities.
To maintain your ADA requirements, wheelchair spaces and companion seating's view must not be obstructed or located on temporary platforms. The only time they can be on temporary platforms is when the entire set of bleachers is on a moveable/temporary platform.
Your ADA accessible bleachers must provide and maintain proper ramps, slip-resistant surfaces, handrails, and signs throughout.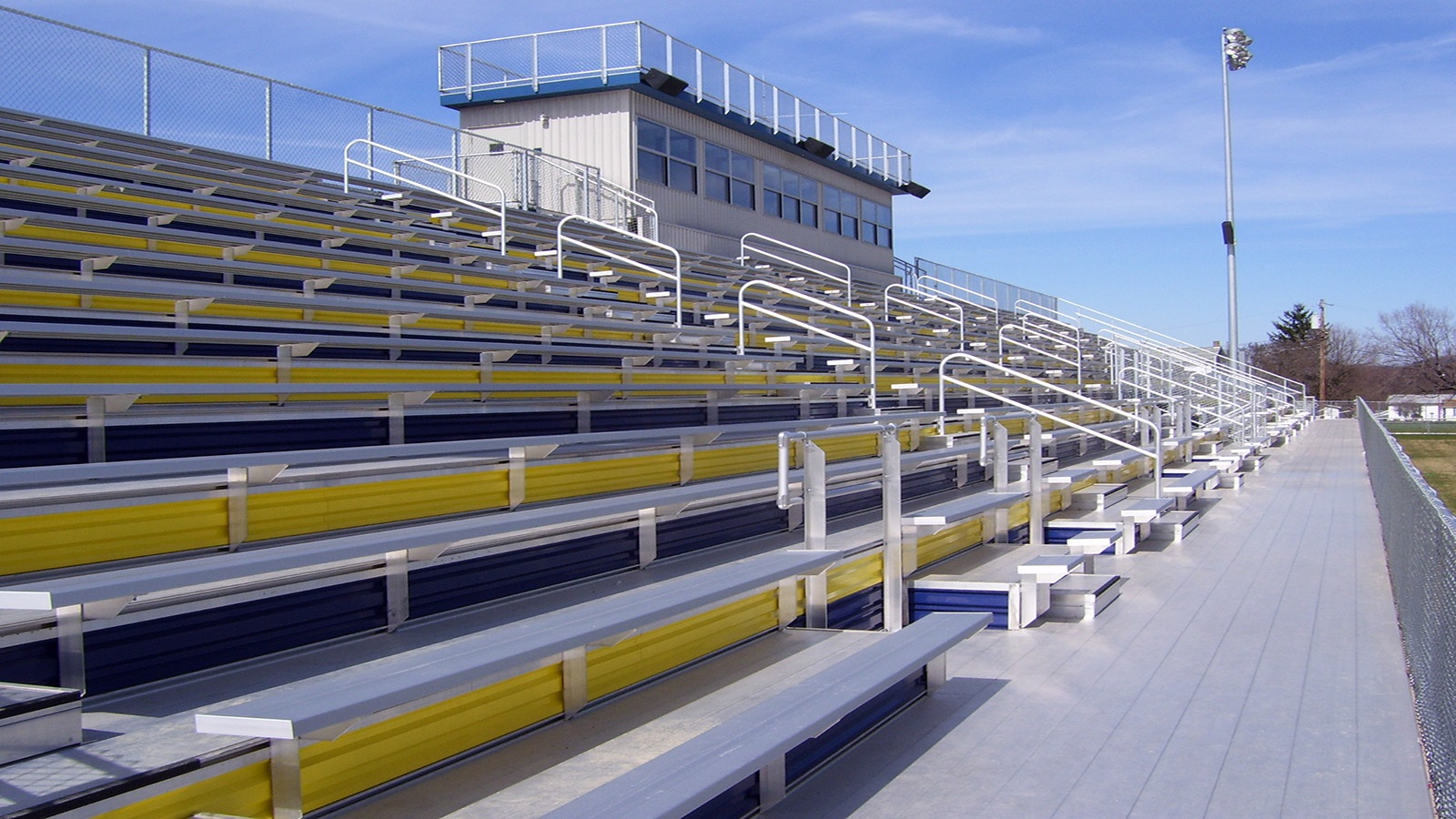 Number of ADA Seats Required
| Number of Seats | Minimum Number of Required Wheelchair Spaces |
| --- | --- |
| 4 to 25 | 1 |
| 26 to 50 | 2 |
| 51 to 150 | 4 |
| 151 to 300 | 5 |
| 301 to 500 | 6 |
| 501 to 5000 | 6, plus 1 for each 150, or fraction thereof, between 501 through 5000 |
| 5001 and over | 36, plus 1 for each 200, or fraction thereof, over 5000 |
Bleacher Handrail Requirments
The railing shall be a minimum of 36 inches high and shall provide a minimum of 42 inches between the top of the rail and the nosing of the nearest tread. All areas of the bleacher higher than 30" must have a guardrail system. GT Grandstand products adhere to all guidelines set forth by the International Building Code/ICC300 (IBC).
ADA Compliance for Stadiums
If you have an older set of bleachers or grandstands, it's important to research the recent set of regulations around ADA compliance and make updates accordingly. If you're interested in building a new set of bleachers or grandstands, we can make sure they're developed with ADA accessibility in mind.
ADA Compliant Bleacher Seating at GT Grandstands
GT Grandstands is a leader in the industry of Bleacher Seating. Our products can accommodate any sized stadium and allow your facility to meet all requirements for ADA compliance. GT Grandstands provide the support that guarantees your facility can be accessed and enjoyed by all.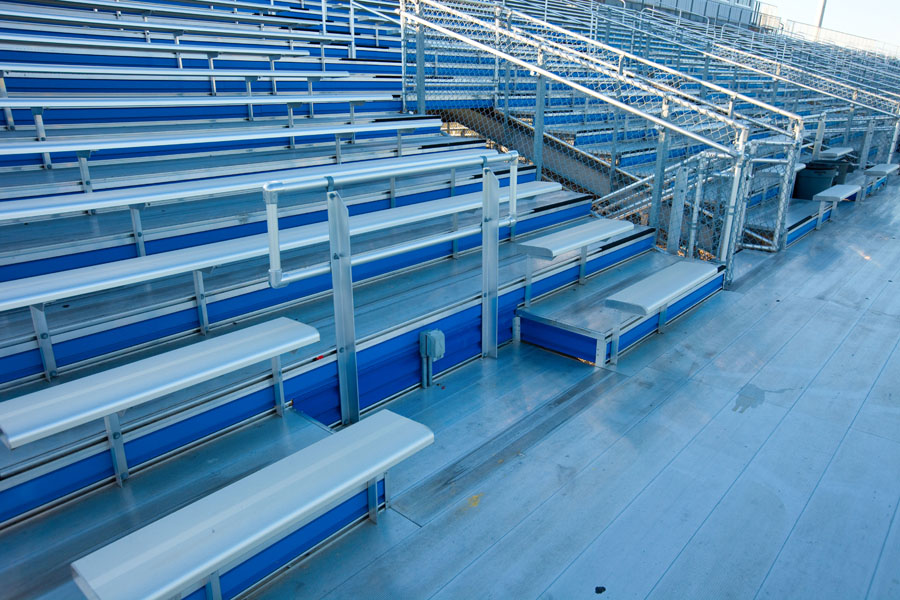 Maintaining your Bleachers and Grandstands!
It's important to maintain your investment and make sure your ADA accessible bleachers and grandstands are secure and up to date for years to come! We have developed a bleacher maintenance checklist to follow when performing biannual inspections.
Are you looking for ADA bleachers? We can help!