Press Boxes
GT Grandstands is Turnkey…Including Press Boxes
GT Grandstands continues to change the game. Let our experienced engineers design your grandstands with a functional and cost effective press box.
What is a Press Box?
Press boxes are designed to allow coaches, commentators, and media the vantage point for viewing a sporting event and are a critical hub for stadium operations.
Bleachers with a Press Box - We've Got You Covered
Our press boxes are designed with you in mind. Our standard press boxes include:
Pre-manufactured press boxes and shipped to your site
Pre-wired electrically for easy installation
Structural steel framing and metal stud infill
Exterior 26-gauge, type-R metal panels
Non-combustible construction
3/8" regular sheetrock inside wall
2' x 2' x 5/8" acoustical ceiling tile
Interior walls are fiber reinforced plastic panels over 5/8" gypsum boards
Exterior available in select color options - Ask about our custom color options
Custom football press box designs
Custom baseball press box designs
Perfect for Football Stadiums and Baseball Stadiums, athletic fields, and colleges
You can also select from optional features such as:
Vertical or slanted from construction
Camera/Roof deck with interior hatch and ladder
Roof hatch & chain-link railing
HVAC/Heating
Emergency exterior ladder as required in some states
Security shutters
FRP panels on the interior, available in white, grey, or almond
Click here for more information
Press Box Designs Customized to Suit Your Needs
We offer standard designs that can be customized to suit your exact needs. After you've reached out to us for a quote, our experienced engineers will be able to design a bleacher box with your exact needs in mind.
Press Box - Versatile Uses
Our Press Boxes can be used in a variety of applications:
High School Football press box
College press box
Athletic field press box
Football press box
Baseball press box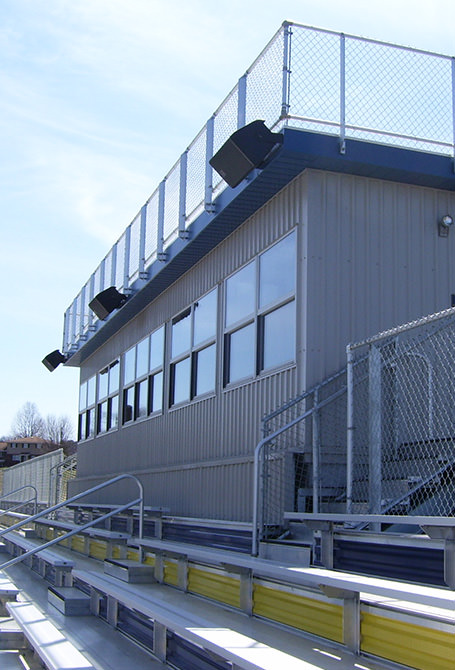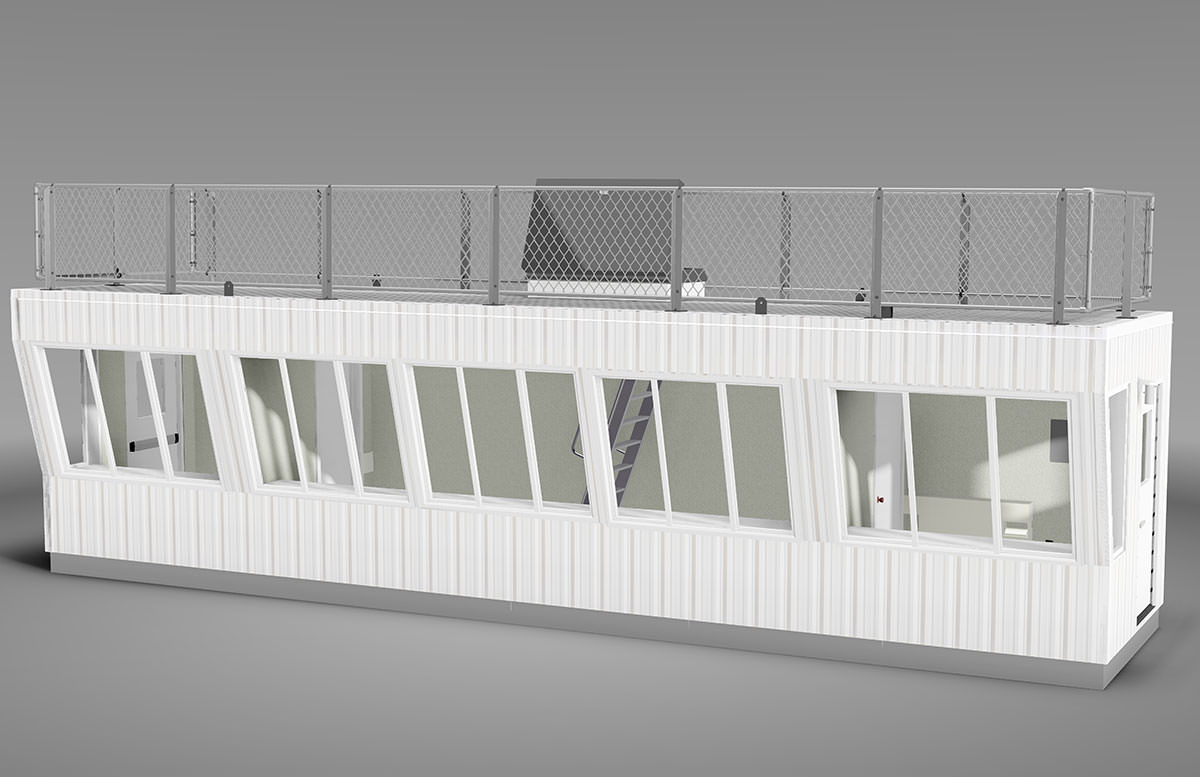 Press Box Prices & Cost
Our pre-fabricated press boxes can vary with installation and customization. Get a quote today to better understand the overall cost of a press box!
Baseball Stadium Press Box
Webber International University
Standard Roof
Vertical Front Panel
7' 8" Interior Height
Color: Green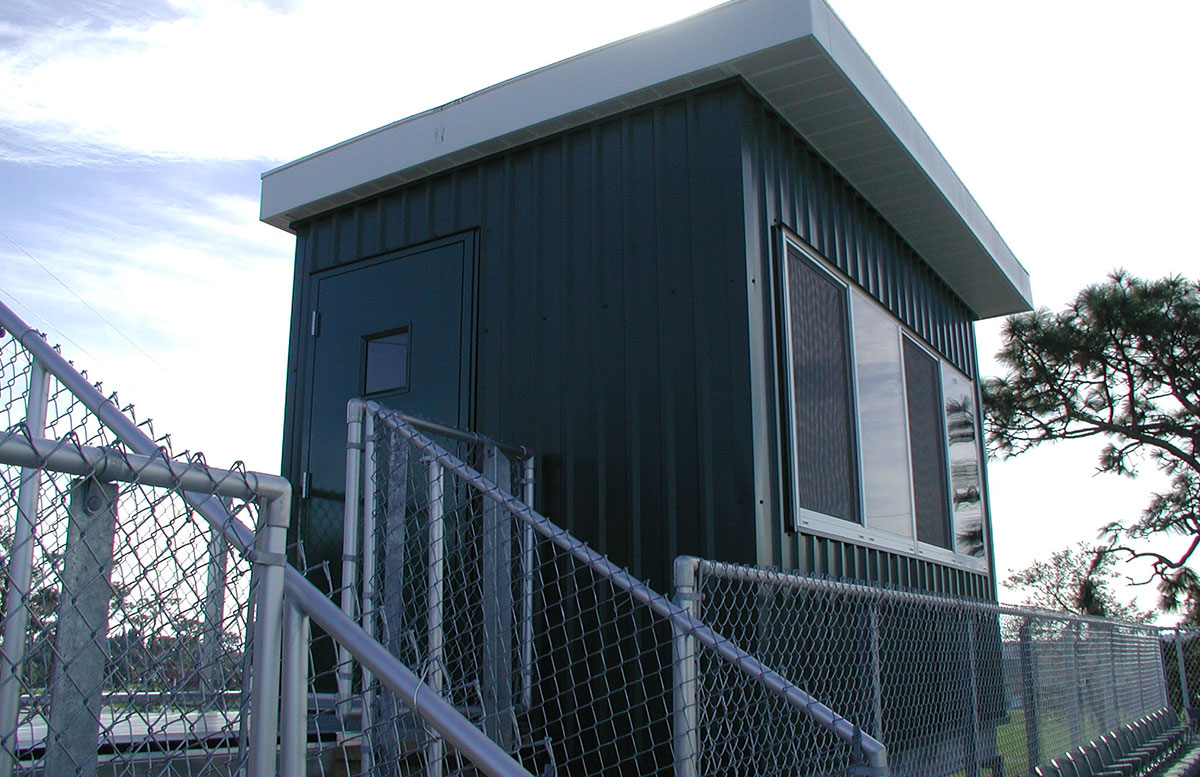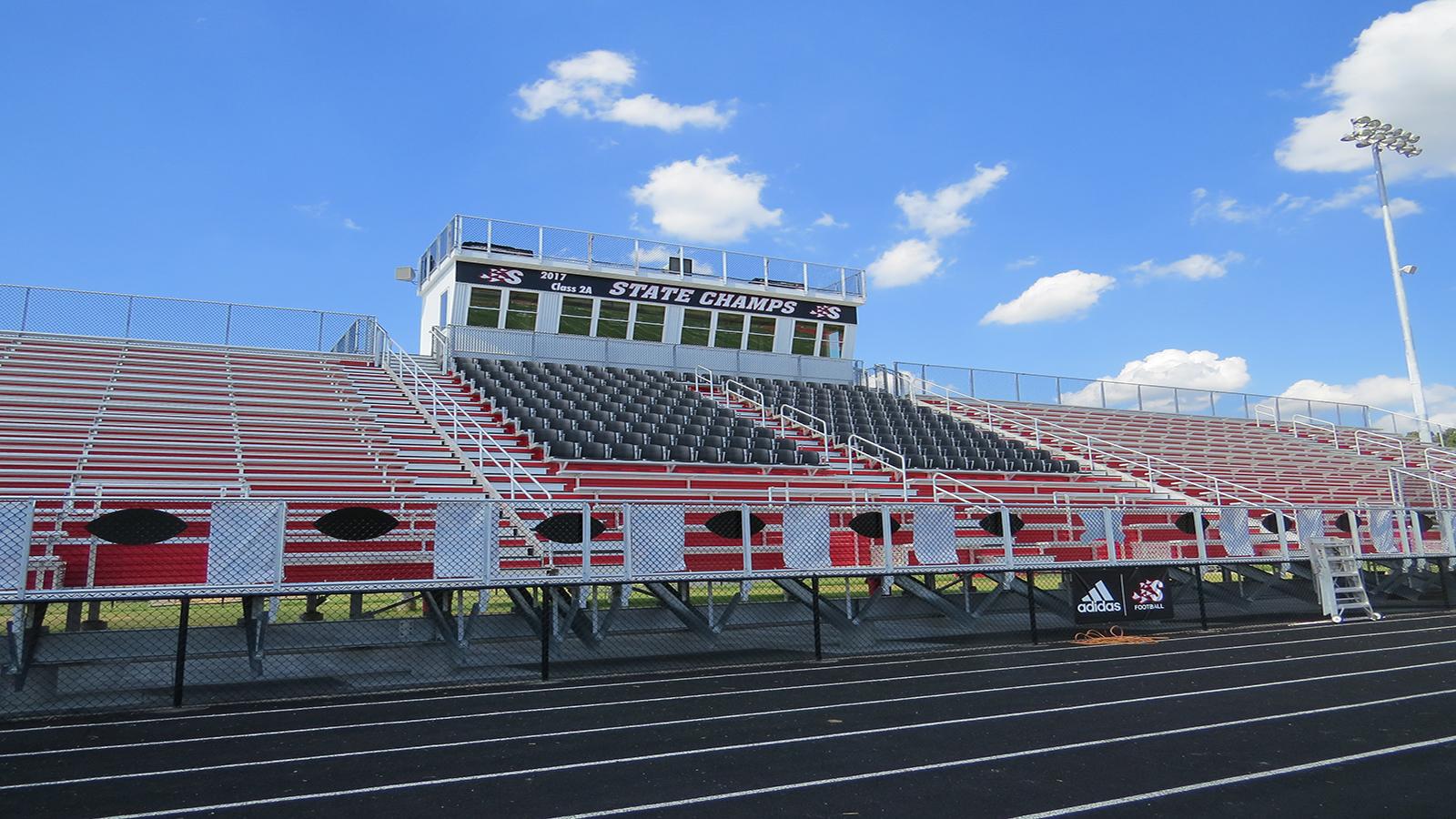 Football Stadium Press Box
Southridge High School
Roof with Railing
Hatch Entry from Roof
Slanted Front Panel
7' 8" Interior Height
Color: White
Check Out Some of Our Work!
Our Customers have rated GT Grandstands Press Boxes 5/5 based on 10 customer reviews:
GT Grandstands
"I think the neatest part is the curbside appeal, It looks like a stadium and less like you are walking into bleachers. The ornamental fencing and the greenscape make it look great. " - Dale Robinson, Director of Parks and Recreation, Spanish Fork, Utah
5/5
"The Days of '47 Cowboy Games & Rodeo would like to thank GT Grandstands for helping us build the arena in record time. We are thrilled to provide one of the finest rodeo venues in the nation for both our cowboys and fans, as we celebrate our pioneer heritage during the Days of '47 celebrations." - Dan Shaw, Days of '47 Rodeo
5/5
GT Grandstands
"As an independent company, Stadium Solutions could pick any bleacher manufacturer to promote. Many companies have approached us to see if we would carry their product. However, we only want to design and build the best in the business – that is why we represent GT Grandstands." - Mark Klopfer, President, Stadium Solutions, Inc
5/5
Press Boxes
"Doing this project with Stadium Solutions and GT Grandstands using the KPN contract not only saved us money but expedited the process. Thank you for a job well done." - Brian Jackson, Superintendent, West Greene School District
5/5
GT Grandstands
"Our bleacher from GT Grandstands was a game changer for our facility and allowed us to substantially increase both the size and quality of events we host at the YMCA Aquatic Center!" - Mike Brady, Executive Director, YMCA Aquatic Center & YCF Swim Team