GT Grandstands "Tops Off" Strawberry Festival New Amphitheater Grandstand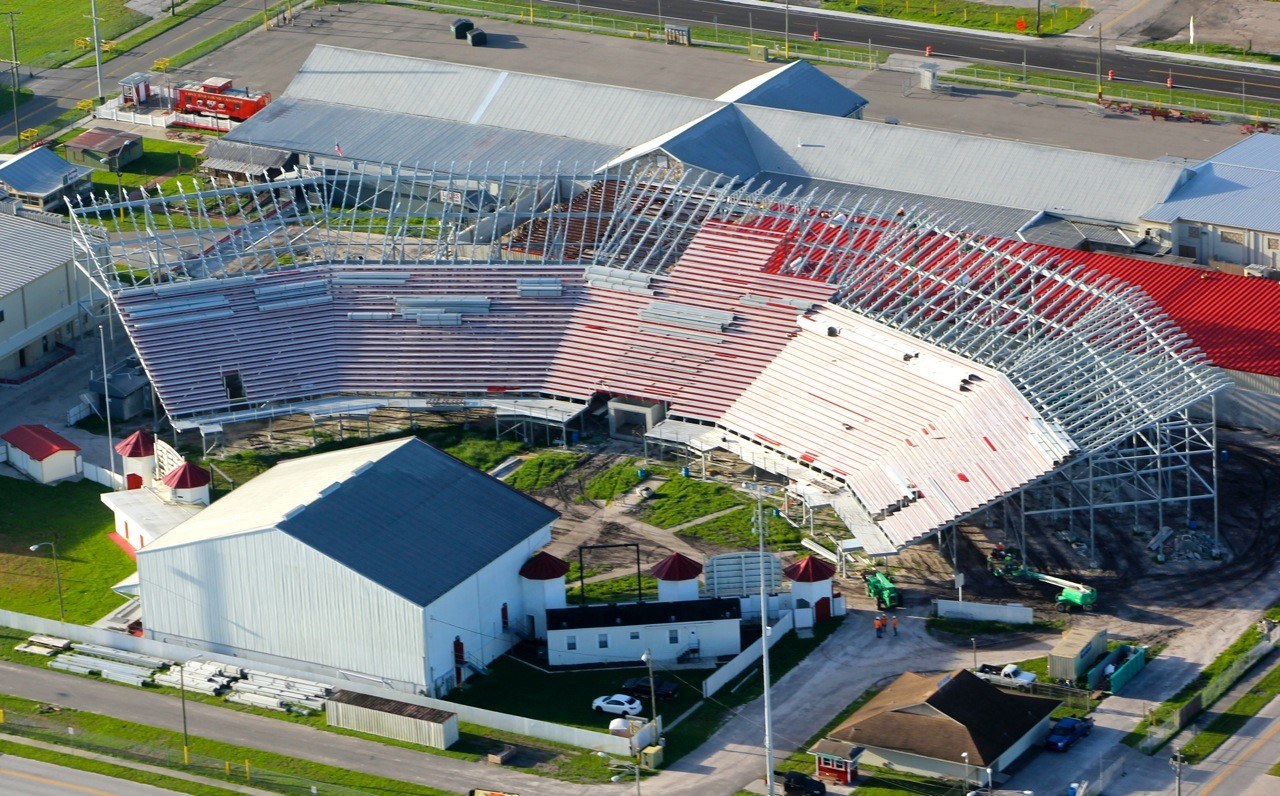 Plant City, FL — July 31, 2017 — On August 4, 2017, Plant City based manufacturer, GT Grandstands, will commemorate the construction milestone of "topping off" at the new Strawberry Festival Grandstand. This ceremony marks the point of installation when the last piece of steel is used to "top off" the infrastructure. The company and its partners at the Strawberry Festival will gather at the site for a celebratory lunch. According to Greg Buckner, General Manager and Vice President for PlayCore Seating Brands, traditionally "topping off" ceremonies are celebratory of the completion of the steel erection phase of a project and are "positive reminders of progress and work to come."
GT Grandstands, a leading manufacturer of aluminum seating in the US, will construct a new amphitheater grandstand for the 2018 festival. The new structure provides more seats for the growing crowds coming from all over Florida and the U.S., and also elevates the festival's appeal for future entertainment. The improved, integrated acoustics for the new stadium will provide top of the line concert accommodations for both acts and fans.
Construction was started in May 2017 and is slated to continue throughout the summer. The new galvanized steel grandstand features i-beam construction and a wraparound design. It includes seating with backrests for all 8,500 spaces. The project will be completed before The Florida Strawberry Festival's opening day on March 1, 2018.
About GT Grandstands:
GT Grandstands designs and manufactures premium-quality grandstands, bleachers and a range of spectator seating options. Selection includes permanent grandstands, press boxes, existing structure renovations, standard portable bleachers and team benches. GT Grandstands offers a variety of standard bleacher styles with optional ADA accessibility features as well as custom design options. For more information, visit www.gtgrandstands.com or call 866-550-5511 for a consultation. GT Grandstands is a PlayCore Company. More information is available at www.PlayCore.com.
About the Florida Strawberry Festival:
The Florida Strawberry Festival is an 11-day community event celebrating the strawberry harvest of Eastern Hillsborough County. Each year, over 500,000 visitors enjoy the Festival's headline entertainment, youth livestock shows, exhibits of commerce and, of course, its world-famous strawberry shortcake. The 83rd Annual Florida Strawberry Festival will be held March 1 through March 11, 2018 in Plant City, Fla. For more information, visit www.flstrawberryfestival.com, Facebook, Instagram, and Twitter (#berryfest18).
#########
For More Information and Press Credentials to Ceremony, please contact:
Georgia W. Tippens
Marketing Manager – PlayCore Seating & Surfacing
423.648.5570